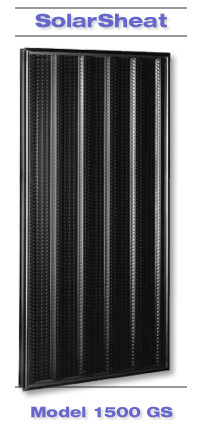 The SolarSheat 1500GS is a secondary solar air collector. It can be used in conjunction with the SolarSheat 1500G - the "master" collector - to provide a larger collection area to produce higher temperatures. Multiple Solarsheat 1500GS panels can be connected together using our modular design to form larger configurations for commercial applications.

The SolarSheat 1500GS can be directly ducted into a HRV, clean air furnace or furnace air return for optimal energy efficiency. Instead of sucking fresh, warm air from the panel during winter; fresh, warm air can be sucked by the system and utilized throughout the building. Not only does this give the building owner solar heating but also higher efficiency when connected to a HRV.

Integrated Photovoltaic Module - The SolarSheat has an integrated photovoltaic panel (thin film can effectively work on cloudy days) comprises 14 watts of power that drives a fan for best performance.
Modular Extruded Frame - The modular extruded aluminum frame allows for connection between panels from side or top portion. Panels can be interconnected to form large air wall structures to accommodate large heating needs or ventilation air supply.

Ceramic Insulation - A ceramic bead insulation coating is applied to the back of the collector to provide optimal energy efficiency and up to R20 value which can act with or instead of back insulated wall.
Perforated Absorber - The perforated absorber allows for maximum air flow through the collector. A high quality paint coating is applied for long-life and ensures excellent energy absorption in a wide variety of climates.
Preset Automatic Temperature Control - The sensor is preset to allow for the proper room temperature heating requirements. (Thermostat preset to 19ºC or 66.2ºF +/- 3ºC or 37ºF)
Solarsheat 1500GS Specifications

Energy Rating
1.5 kw
BTU/HR
5118
Dimensions
87" X 43.15" X 3.8"
221cm X 109.6cm X 9.7cm
Gross Area
26 ft2 or 2.4 m2
Weight
82 lbs /37.2 kg
Color
Black
Type
Modular solar air collector
Material
Aluminum extrusion
Glazed
Tempered Glass
Thermal Insulation
Polyisocyanurate
Power
PV system, 14 watts
Flow Rate
150 CFM
C02 Reduction
.35 tonne
Temperature
120ºF or 49ºC
Mounting
Wall or roof


Product Manufacturer: Your Solar Home Inc.