All American SUN OVEN®
Cook, Bake, Dehydrate, or Boil with the World's Most Universal Power Source... Free Sunshine!- No fuel needed!
How It Works
Product Features
Product Applications
Warranty
Product Specifications
The TOTALLY NEW All American SUN OVEN® has retained the best qualities of the original Global Sun Oven and added many more user friendly features to create America's most efficient hassle free solar appliance for cooking, water pasteurization, and dehydrating.
Reaches temperatures of 360 to 400 degrees Fahrenheit! in USA
Bake, boil, or steam foods — boil or pasteurize water!
American made
Dehydrate fruits, vegetables, or jerky!
Slow cook or cook in comparable time to conventional stove tops or ovens!
Ruggedly built for years of trouble-free use! Totally safe — No danger of fire!
Folds up as a small suitcase and weighs only 22 lbs!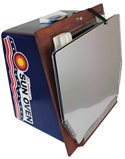 For the past 28 years, SUN OVENS® have been widely used around the world in more than 126 countries and have become the world's most well-respected solar cooking appliance. The TOTALLY NEW All American Sun Oven combines the experience gained by cooking millions of meals with the distinctive American cooking needs and lifestyle to create a uniquely American Sun Oven which:
Is 20% larger than the original Sun Oven to cook a greater volume of food
Accommodates more American standard-sized baking pans
Takes the guesswork out of aligning with the sun
Has improved wind resistance
Boosts temperatures by 15% over prior models to cook more food in less time
Includes CD with hundreds of recipes, Emergency Preparedness Organizer, and videos
Sample Cooking Times
Beef Roast, 2.5 lbs = 1 hour, 20 minutes
Baked Chicken, 3 lbs = 1 hour, 15 minutes
Bread = 45 minutes
Rice = 40 minutes
Chocolate Cake = 35 minutes
Granola = 20 minutes
The TOTALLY NEW All American SUN OVEN® helps you harness the power of the sun. One source of power that never fails is the light of the sun. Whether you're dealing with a power outage or conserving energy, the SUN OVEN® enables you can capture the power of the sun to cook without fuel.
• Lets You Create Your Favorite Recipes - You can cook almost anything - breads, cakes, muffins, pizza, vegetables, poultry, fish, meats, casseroles, grains, pasta, and desserts, just to name a few.
• Provides High Cooking Temperatures - Reach temperatures of 360 to 400 degrees Fahrenheit, which are more than sufficient to bake, boil, or steam your favorite foods.
• Makes Foods Taste Better - Sun-baked foods stay moister and have less shrinkage than conventional oven-cooked foods.
• You Choose The Cooking Time: Fast or Slow - Cooks in as little as 20 minutes longer than cooking in a conventional oven or stove top, or lets you slow cook all day.
• Heats Water - Heat water for drinking, doing dishes, and personal hygiene.
• Is Ruggedly Built - Not a toy. It is a serious appliance that is made for years of trouble-free use.
• Most Energy Efficient Way to Rehydrate Food Storage - Uses less energy and water to rehydrate and cook dehydrated and freeze dried foods.
• Is a Great Hedge Against Power Interruptions - Be prepared for any interruption to traditional power sources. You will be able to cook any kind of food as well as boil water. You can enjoy peace of mind in knowing that as long as there is sunshine, you will have all the power you need to cook all your meals.
• Never Burn Dinner Again! - There is never any burning or scorching to ruin a meal.

The TOTALLY NEW All American SUN OVEN®...
E-Z Sun-track indicators
The E-Z Sun-track indicators have two holes. As the light of the sun shines through the top hole, a small round dot of light will appear inside the indicator. When the oven is perfectly aligned with the sun, the round dot will be centered over the bottom hole.

Extra thick Ultra WhiteTM Transparent Glass
The Ultra WhiteTM transparent Glass is 25% thicker than the glass on prior SUN OVENS® for increased shatter resistance, improved insulation, and hotter cooking temperatures.
Dual purpose leveling rack
The All American SUN OVEN® is equipped with a dual-purpose leveling rack which hangs inside the oven and swings freely to prevent spilling of food when refocusing the oven. The dual-purpose leveling rack side arms can fold below the rack to sit on oven floor to increase the usable area inside the SUN OVEN® and accommodate larger pots, pans, or baking bags.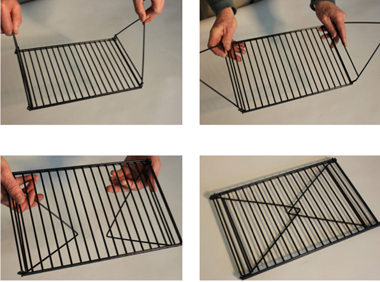 Wind resistant alignment leg with ground stakes
Allows you to raise or lower the oven's orientation to meet the sun on the horizon with increased stability. To prevent blowing over in high winds, the alignment leg can be staked to the ground or tied to a table.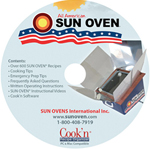 Virtual SUN OVEN® Cookbook & Emergency Preparedness Organizer CD
New SUN OVEN® eCookbook & Emergency Preparedness CD featuring 600 recipes, hundreds of pictures, video clips and much more has been developed by Cook'n, the award winning and #1 best-selling recipe organizer.


_______________________________________________________


Bake, boil, or steam the natural way, plus... create all your favorite slow-cook recipes just like using a conventional crock pot while you're busy or away at work! Anything you can cook in a conventional gas or electric oven can be cooked in a Sun Oven.
Food tastes better! Solar oven cooking will trap and retain all the natural flavors of food, plus all those wonderful juices which get baked out using conventional dry heat style ovens.
Superior Cooking! The slow, even rise in temperature in a Sun
Oven gives the complex carbohydrates time to break down into simple sugars allowing those incredible, subtle natural flavor to emerge!!! Sun baked foods stay moist; the natural internal juices do not bake out, resulting in a superior, moist taste with much less shrinkage. [See detailed cooking and operational info below].
The All American Sun Oven is so versatile, so brilliantly designed, so easy to use, you'll wonder why you didn't purchase one years ago!
Simply set it in direct sunlight, point it the proper direction, place your meal inside the oven chamber, and The Global Sun Oven will provide a superior tasting repast – for FREE!!!


Function: Superior cooking of all types of food - worldwide!!!
Benefits: Uses effective alternative renewable energy source
| | |
| --- | --- |
| | Explanation of the American Solar Sun Oven's Function |
The American Sun Oven® will quickly reach temperatures of
360 to 400 degrees Fahrenheit!!!
When the American Sun Oven is focused in the sun, the interior
of the oven is heated by the sun's energy.
Panels of polished metal flare out above the oven and direct
the suns rays into the oven chamber where the heat is trapped,
much like the heat captured when windows of a car are closed.
The black surfaces on the inside of the oven capture and
transform the sun's energy into a radiant energy wave length
that cannot escape the oven chamber.
Direct and reflected sunlight enters the oven chamber through
the glass door. It then turns to heat energy when it is absorbed
by the black inner-shell and the levelator device.*
The light energy absorbed by both the dark surface, and thick
steel walls of the The American Sun Oven Roasting Pot, [or
otherdark pots], and the oven's dark interior is converted into
longer wavelengths of radiant heat energy.
Most of this longer-wavelength radiant energy cannot pass back
out through the glass, ensuring more efficient cooking.
Food will not stick or burn... because the solar heat is radiated
throughout the cooking oven and does not come from a single direct
source; no hot spots created by harsh burners or heating elements.
Food does not even have to be stirred - PLUS the Sun Oven is an
excellent tool for boiling water. Cooking times are about fifteen
minutes longer than with conventional ovens.
The oven will generally reach its maximum temperature as it
is being preheated. The temperature drops slightly when food is
placed in the chamber.
Note: The Sun Oven works even in subzero air temperatures,
as long as the sun is out, the oven will capture the sun's energy
and cook as if it were a tropical day. The oven will heat up quicker
on clear, low humidity days.
*The Sun Oven is equipped with a built in levelator device,
an inner shelf that pivots to always keep food level and avoid
spills while the oven is being refocused. The levelator is easily
removed to make cleaning easier - or expand the baking area!
The four mirror finished anodized aluminum relecting panels fold in
and are easily secured with a heavy-duty strap. Convenient suitcase
style handle allows for hassle-free handling - rugger construction,
compact size, and low weight make transport or storage a breeze!!!
| | |
| --- | --- |
| | Product Features |
• Cooks with the power of the Sun - no fuel needed!
• Uses source of power that never fails - the energy of sun
• Cooks any foods - no special recipes are required
• Reaches temperatures of 360 to 400 degrees Fahrenheit
• Levelator inner shelf pivots to always keep food level
• Levelator easily removed to expand the baking area
• Built in leveling leg on back allows for easy sun tracking
• Rugged construction - built for years of trouble-free use
• Strong plastic case - both durable and easy to clean
• Outer shell made of a highly durable ABS plastic
• Reflexo specular finish reflectors plus tempered glass door
• Reflectors made with mirror finished anodized aluminum -
• will not oxidize, rust, or corrode
• Black inner shell is formed from aluminum coated with
• non-toxic, high temperature powder coating
• Coating is baked on and does not emit any toxic fumes -
• like other industrial paints or coatings
• Oven interior is double-walled and lined with thick batt
• of non-toxic fiberglass insulation
• Gasket that seals the oven chamber is made from patented
• material specifically designed to withstand UV radiation
• Gasket forms an air-tight seal to hold heat in while preventing
• out-gassing from building up in the oven's chamber
• Stained wooden bezel made of milled kiln dried hardwood
• Relecting panels fold in and are easily secured with strap
• Carry it anywhere - as portable as a small suitcase!
• Convenient suitcase-like handle - weighs only 21 pounds!!!
| | |
| --- | --- |
| | Product Applications |
• Functions anywhere the sun's rays can directly strike unit
• Works well in back yards, porches, decks, patios, etc
• Great in wilderness locations for campers, hunters, fishermen,
• hikers, mountain climbers, ocean kayakers, eco-explorers, etc
• Excellent for RV site/motor home, campsite, vacation cabin,
• fishing and hunting lodges or resorts, remote outfitters, plus...
• poolside, boat dock, beach, large sail boat, catamaran,
• summer camp, industrial site, any outdoor or remote location!
• Safeguards against power disruptions - great for disaster relief
| | |
| --- | --- |
| | 15-Year Manufacturer's Warranty coverage |
• Gasket seal covered against cracking or breaking
• Reflector panels covered against rust or corrosion
• See manufacture's warranty for complete details
• Proper operation supported by solar engineer tech assistance
• Worldwide help line and/or online e-mail tech support
| | |
| --- | --- |
| | Product Specifications |
• Outside Dimensions - 19" wide x 19" long x 11" depth
• Inside Dimensions - 14.25" wide x 14.25" long x 8-11" tapered depth
• Total weight - 21 pounds, 9.53 Kg
• Estimated service life - 20+ years; with proper care
• the solar sun oven can last a lifetime
Product Manufacturer: Sun Ovens International
» Product Overview
» Sun Oven Benefits
» Sun Oven FAQ
» Sun Oven Accessories